Mitsubishi Electric Inverter (Cassette)

Wide Airflow
Wide-angle outlet distribute airflow to all concern of the room, ensuring the room is sufficiently cooled/heated. Horizontal airflow and a fan speed reduces by 20% compared to conventional models also contribute to increased comfort for occupants.
Less Cold Draft
The horizontal airflow function prevents cold drafts from striking the body directly, thereby keeping the body at an appropate temprature.
Wide-Flow Air Outlet
The high-power ceiling cassette offer a wide-flow air outlet that enables effective air conditioning of rooms with atrium ceiling uo to 4.5m in height. The demands of high-ceiling applications such as halls, Showrooms or shopping malls can now be fully answered thanks to this owerful, yet highly effecient airflow.
Automatic Air-speed Adjustment
An automatic air-speed adjustment mode is provided in addition to the four air-speed stages, of high, medium 1, Medium 2, and Low. Air speed can be changed freely according to the difference between set temperature and room temperature. The automatic air-speed adjustment mode offers quick cooling of a room in high mode, such as when starting cooling operation. After the room temperature is stabilized, the system switches to Low mode automatically to maintain comfort.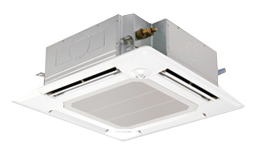 Techinical Specification
PLY-SP18/24BA

PLY-SP30/36/42/48BA

Low Ceiling

Standard

High Ceiling

Low Ceiling

Standard

High Ceiling

4-Way

2.5

2.7

3.5

2.7

3.2

4.5

3-Way

2.7

3.0

3.5

3.0

3.6

4.5