Mitsubishi Electric Air Curtain

Powerful airflow without the noise
New innovations in high-tech hydromechanics have made Mitsubishi Electric's ExtraFan run so quiet it may seem to lack the strength of conventional, noisier models. Not so. The ExtraFan not only reduces noise it is also the secret behind the GK-35's powerful, high-volume airflow.
TWIN NOZZLE
The twin nozzle design ensures that less extraneous air enters the air curtain, while the outflow is wider. Resistance to the influence of external airflow has been strengthened, greatly improving insulation against heat and cold.
RECTIFICATION PLATE
Ups speed while controlling direction The rectification plate creates a highly directed, discshaped flow by transferring airflow from the propeller fans without reduction to volume or velocity. The plate forms the air into a smooth hemispherical wall, producing a high-speed current in a single direction.
Air Curtains-Increased Cold Storage Efficiency and Shut-Out Effect In a cold-storage facility without an air curtain, the inside temperature increases from -5 to +4ºC in as little as two minutes, but if an air curtain is used this time is extended to about 10 minutes, or approximately five times as long. If the door is left open for five minutes, the temperature goes up to 10ºC if no air curtain is used, as opposed to 2ºC when one is used. It was also discovered that when an air curtain was used, 50% less energy was required to reduce the inside temperature to -5ºC.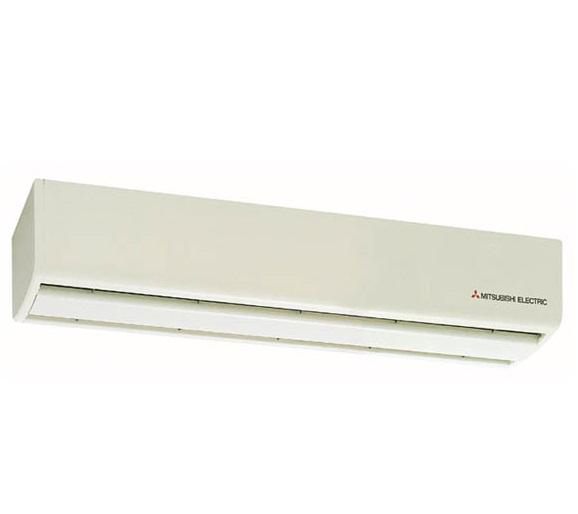 Techinical Specification



Model

Width of unit (cm)




Power

Fan speed

Air volume (m3/h) (50/60Hz)

Current (A) (50/60Hz)

Input (W) (50/60Hz)

Air velocity
Max. (m/sec) (50/60Hz)

Noise (dB) (50/60Hz)

Starting Current (A)

Weight
(kg)




GK-2509YS1




90








Single-phase,
50/60Hz
220-240/220V

High

1,210-1,230/1,170

0.25-0.26/0.29

54-61/63

9.5/9.5

43-44.5/43



0.43



10.5

Low

980-1,000/930

0.24-0.25/0.25

52-59/54

7/7

38-41/35




GK-2512AS1




119.4

High

1,420-1,440/1,410

0.35-0.37/0.39

76-83/84

9.5/9.5

46-47/46.5




0.62




13.3

Low

1,150-1,170/1,090

0.31-0.33/0.33

67-78/71

7/7

40.5-44/38




GK-3009AS1




90

High

1,450-1,470/1,640

0.43-0.46/0.47

90-105/102

12/12

46-47/49.5




0.86




11.0

Low

1,100-1,200/1,150

0.35-0.37/0.39

76-87/84

8/8

43-45.5/42.5




GK-3012AS1




119.4

High

1,740-1,760/1,950

0.52-0.56/0.58

107-125/125

12/12

49-50/52

1.05

14.0

Low

1,350-1,400/1,330

0.44-0.46/0.48

95-109/104

8/8

46-47/45




GK-3506CS




60.8






Single-phase,
50Hz 220-240V

High

1,320/-

0.53-0.57/-

116-135/-

13.5/-

55-56/-

1.53




15.5

Low

1,150/-

0.44-0.45/-

93-102/-

11/-

53-54/-

0.93




GK-3509CS




91

High

2,100/-

0.87-0.94/-

191-223/-

13.5/-

58-58/-

2.53




22.0

Low

1,860/-

0.74-0.75/-

155-170/-

11/-

55.5-56/-

1.55




GK-3512DS




118.7

High

2,640/-

1.05-1.13/-

227-267/-

13.5/-

58-58.5/-

3.02




28.5

Low

2,310/-

0.89-0.9/-

187-206/-

11/-

55.5-56.5/-

1.84